August 1, 2014
introspection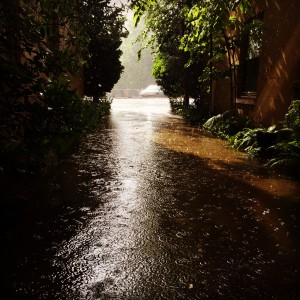 Dry lightning is lighting up the western sky and every time I think I should head to bed a line of electricity crackles across the night. I haven't seen dry lightning in western Oregon in a long time, it almost seems like I'm somewhere else.
My grandmother died earlier tonight. She was 103. To be honest I'm glad she can finally rest. Having someone I know die always awakes this sense of mortality in me. I can't help but hear my own clock ticking. I thought it would stop ticking a long time ago.
I am not a fan of heat. I remember that a lot of people complain about the wet cold weather in the winter, and sometimes we have cool mild summers, but when we go weeks on weeks of ninety-degree days, I can't help but be cranky. The only trade off to a ninety-degree day is that the night at 3 in the morning is perfect. You can stand outside in shorts and a t-shirt with no shoes on stare at lightning comfortably.
Once upon a time I wrote a blog about never having a home. It was a kind of poem mixed with introspection. I write that I will never have a home, but many camps. I write that no one will ever find me home. It broke my heart everyday for a long time thinking that I will forever be homeless in houses. Right now, as I sit at a breakfast nook typing this up and in the other room I see two bookshelves filled with books, I feel at home. In the bedroom hopefully fast asleep, a woman who finds me as home as I find her. Everyday I thank my luck stars that we found each other. She is my home.
I finally tried the new Dungeons & Dragons edition tonight. I loved it. It reminded me of the times I played in middle school. There were so many possibilities and so many terrible things that could happen at the roll of a dice.
The only time I feel air conditioning is when I get a good bus.
There are only two more weekends of softball. I always get a little sad and think about how I should play fall ball or next year signing up for the bar leagues or one of the men's teams, but I always realize that the reason I love the softball is the team I play for and the people on it. I love the people that have played for several years – this one guy can't play because of a bum knee, but comes out to all the games, that are at a reasonable hour, to cheer and base coach. I also love all the new people that have joined in the last few years. Especially the pitcher, I love her.
About a week ago I hit my summer time depression. I think it has something to do with the heat, but every summer during the hottest days I get dark. I haven't been sleeping well and just have a low sour opinion of myself. I get to where I don't want to go out there and be among the people. There are times at my job when people don't come in at all and I just think – and think. I beat myself up for all I have done, all I haven't done and all I will probably do and don't. Then a customer walks in, and I have to switch gears and turn on the charm and the warmth. Some days I worry I won't be able to do it.
A lightning bolt surged from where Montgomery Park to about where the KGON tower is. Thunder was 5 seconds after.
We're getting into the dogfight part of the MLB season. This is where every win really starts to count and all the losses start to become emotional. My team, the Oakland Athletics, have the best record in baseball, but a string of losses could be huge. Did they get a pitching staff good enough to finally pass the Detroit Tigers?
We live in a brick building and our apartment faces west and we don't have AC. I work in a brick building that also doesn't have AC.
I've been writing a little poetry lately. Maybe I'll post some here. When I write things like this or essays that have a strong argument, I'm not worried about critics and trolls, but poetry, I fear so much more than just a critique or a joke about poetry.