July 1, 2013
Travel Bureau
It has been a while since I had last reported of my whereabouts both physically and in mind, but I assure you that I am in tip-top form and was just traveling sans computer for the last week.
I was in the Bay Area, Santa Cruz and Big Sur. It was an amazing trip, thank you for asking, and I have come back with a renewed sense of self and energy. If you haven't tried this vacation craze that sweeping across the nation, you should give it a try. I know people that go as far as Hawaii and the Caribbean! Some people even deal with long flights and third world comforts to see Asia, Europe and Africa. One of my more adventurous friends went to Canada a few months ago and I sense he will never be the same again.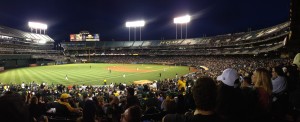 I'm sure none of you are interested in what I did down there, so I'll do some real fast paragraphs on what were the highlights of my holiday among the redwood forests and windy coastal highways. One of the reason I like going to the bay area is the baseball. I have been an Oakland Athletic fan since the mid 80s and any chance to see them in the beloved monument that is the Oakland Coliseum, or as a person disguised as a corporation calls it: Oracle Arena or O.Co. Before I could take in an A's game, my friend Megan and I visited the San Jose Giants, the Class A farm affiliate of the better known San Francisco Giants, the winner of the World Series last season. What I like about the farm teams is the Americana feel of it all with the food, the bleachers and Gigante the mascot who actually is funny and was almost more entertaining than the game. The Giants lost to the Modesto Nuts, yes you read that right, the Nuts. Before the game, we tried to go to some museums, but everything is closed on Mondays in San Jose, which is weird for such a town full of heathens who believe in crystals and twitters. We even got kicked out of a parking garage trying to see peregrines.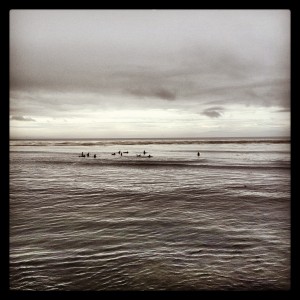 The next day I saw an otter and tried very hard to name it and call it to me so we can move back to Portland and be happy. I thought an otter would see me as a colleague and would want to start a lasting friendship, but the otter kept swimming around and ignoring my pleas until it was very far down the bay. Megan and I then went to Tilden Regional Park and did some trailblazing and got super muddy and also covered in pine pollen, which I had to go to the A's game like.
The A's beat the Reds 7 – 3. This made me feel delighted and full of joy. I do always feel a sense of being a poseur, since I didn't grow up in Oakland or anywhere close. People always assume that I'm from the Bay Area, but get confused when I tell them I grew up in Portland like I should have been a Mariner fan. The baseball issue is the only issue I have with growing up in Portland. Baseball signifies history, culture and identity, and Portland only had the Portland Trailblazers. It almost feels too late to bring a baseball team here. No, I will not settle for soccer. The MLS is a joke.
I stayed in student housing at UCSC and while I was there, the Mandolin Symposium was there, so from sun up to dawn, old dudes were playing mandolins. The night I came home from the A's game a group of younger guys were jamming on their mandolins.
Wednesday was the most boring day I was there, but it was still a great day. I hiked Wilder State Park along the cliffs over the Pacific and farmland stretched to the highway. I got to enjoy the Santa Cruz farmer's market and noticed that a lot of dudes had ponytails, which is a total irritating fashion. Dudes, don't grow ponytails, you will just look like a douche bag.
That night I went and saw Dave Alvin play at a place in Santa Cruz with a bunch of 50 to 60 somethings. There was a guy with thinning hair and a ponytail in front of me who kept clapping out of time and punching the air with his fists and I just wanted to beat the guy to an inch of his life. Yes, this is how irate I get about ponytails. Dave Alvin was excellent and very emotional. It seemed like all of his songs were either about a simpler California or someone special to him who had died. He is a true American musician and a treasure.
The next day we set off to Big Sur. No matter how many times I have seen Big Sur in real life or on TV, it has to be one of the most beautiful places on earth. You can't help but feel that magic that draws the hippies from all over to this place.
Got a camping site and then headed to the Monterey Aquarium where Megan has a friend who works there as an otter trainer! I felt like my dream of getting a pet otter was closer to fruition with this turn of events. We got to stand above the aquarium and watch the trainers feed the otters and have them do tricks and then they let Megan and I throw clam juice ice cubes to the otters. They seemed grateful and it took all of my will not to jump into the tank with my best friends. I also got to feed giant sea turtles and had to walk a few feet away from hammerhead sharks to get to their tank.
We drove down Highway 1 to look for California Condors, but didn't see a goddamn one.
We went back to the campsite and walked down Big Sur River for a while feeling the cool water on our legs and the redwood kept us shaded from the hot sun. There is something serene sitting in the middle of a river on a rock and just watching the water flow over rocks and hearing the river flow. I let out a few big sighs. We went back to the campsite and started a fire and grilled some corn on the cob. One of my favorite things to do on earth is smoking by a campfire.
Now, while I was having a blast and having a much-needed vacation, I was missing my girlfriend. For most of my relationship life I always look forward to some time away or if they have to go somewhere and getting a couple days by myself, but this time I felt tightness in my chest the whole time I was gone. I never got that distance make the heart grow fonder until now and I was looking forward to seeing her smile the whole time I was gone. Thinking about going another week without her again seems insane to me now.

The next day Megan and I took a hike around a waterfall and a vista where we could see the Pacific being hugged by two hills. The day was hot and there were lizards scurrying over rocks and the trail.
We then drove south on Highway 1 in search of the California condor. I was skeptical because of our last attempt and there are only 35 in the whole area, so the chances to see this bird were slim in my opinion. While looking around at one turn off, you know the one down the road a bit from Roger Waters' house, and saw whales heading North and some dolphins feeding. I was pretty content with that, but we went southward.
Then I saw a small plane, no! It was a condor flying in a circle! It landed on a rock point on top of a small cliff and looking over the Pacific. Then a second one, and a third one, and then two – no three more on a tree down the road, so we're at six total Condors. We went down the road and found nine on a hillside and ten on a cliff side. THAT'S NINETEEN CALIFORNIA CONDORS! I was five feet or less from this giant scavenger bird that only a few years ago there were only a few of them in captivity. We met this bird nerd from Dorset, England who I wanted Megan to marry because they were both bird nerds. He was a tad too shy to pop the question right then and there, so we're hoping he finds her and they go to Belize and go bird watching as a married couple.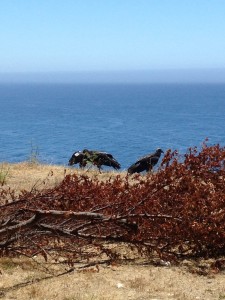 We headed back towards Santa Cruz with just a stop to get in the ocean at Carmel by the Sea. The water was freezing, but felt refreshing after staring at birds for two or more hours in the hot blazing sun.
There was some ravioli from Willow Glen; San Jose's Local Treasure, which was the best ravioli, I've ever had and probably ever will. If you're in the Glen, stop by La Villa and get some ravioli.
The next day went down to the harbor and saw the last otter I'll see for some time doing somersaults in the water while people were coming and going in their yachts and sailboats. I think he wanted me to bring him back to Portland, but everyone was telling me that he'd rip off my face.
I flew back to Portland and was anxious to see my girlfriend. What if she forgot I existed? What if she realized I was a piece of shit and that she could do a lot better? What if she forgot about me and got used to not having me around and now knows she likes being by herself? What if she met a tall handsome man with curly hair and horn-rimmed glasses that was smarter and funnier? What if I don't look as good as she remembers?
I walked off the plane and saw her in a nice little black dress and my heart leapt out of my chest and I knew that I was home.