October 4, 2014
introspection
For those of you that don't know, before I was diagnosed with cancer, I was working as a bartender at Slabtown, a rock venue in the Slabtown neighborhood in NW Portland. My plan was to continue to work there after I was healthy enough for light duty, but today, Slabtown has announced that it would be closing after the 31st of October. My future just got even more interesting – scary.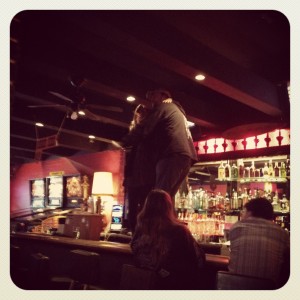 Why is Slabtown closing? The short answer is finances. I'd not be comfortable pretending to know all the details, but all the employees will be paid and taken care of the best way possible.
Slabtown closing just saddens me because I believed in it. It isn't just a job that I went to, I believed in what was happening there. I believed in it having all ages shows, small DIY shows and trying to bring in the less than represented music scenes. I believed that what was happening was the very soul of what Portland is all about.
It isn't.
I have all kinds of reasons I think that, but they are all mean and coming from a very jaded point of view.
I'm saddened that the vision never got to full fruition. You should stop and think about that. You never saw Slabtown come to full fruition, and what would that have meant for Portland's music scene.
I'm sadden that a man's vision was cut short and now has to find a new vision after only seeing one vision for three years. We can only hope that it goes towards something positive and creative and not back to just working for a paycheck.
I'm sad that I had to leave it early because of disease. I'm sad that I couldn't have come up with some crazy idea to save the place. I'm sad that Portland isn't as DIY as it thinks it is.
I'll miss the pinball.
When I started working for Slabtown I knew that it was the right decision. I never once thought I was wasting my time or I should be working somewhere else. I always thought that I was being apart of something big and wonderful and that what my small part was doing something for someone else.
I thought that Slabtown was helping young people take control of their music scene and making it their own instead of waiting for the rock saints of yesterday to make the play and maybe it would be played somewhere where the kids could hear it.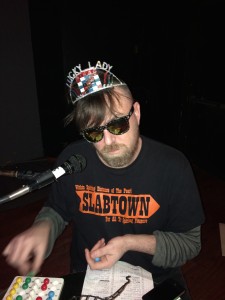 I don't think rock and roll is for people my age.  Rock and roll is for kids. Rock and roll should scare people like me. Rock and roll should be where kids escape old people. Slabtown was becoming that. Portland is full of old people pretending to be nineteen for the twentieth year in a row.
I'm not sure what the future holds for me right now, it's too soon to make any decisions. I'll be tightening up my resume and hitting the streets just about the same time all the holiday jobs start opening up.
I know that I won't have a job anywhere as special as the job I had at Slabtown.
Here is to the unknown and the never was.