April 16, 2015
Dating Ad
dating, okcupid
I'm on OKCupid for the second time. I have no idea why I even signed up knowing I'm not good at Internet dating, but I wanted to see what was going on out there. I even went on a couple of dates.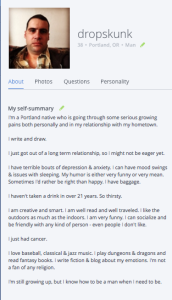 They did not go very well. The first girl talked a lot and asked a lot of questions, but I was in a fog and just couldn't get my personality going. I could tell sometime into the date that her eyes went dead and that she just wasn't into sitting there with me anymore, but kept on talking.
The second girl kept bringing up exes – especially the latest one. Sometimes she'd damn him and other times she would tell a funny cute story about the two of them. The more she talked about her exes the more dead inside I felt. I mentioned that I am good friends with my last ex, and she freaked out about that. She couldn't understand why I would still be a friend with someone who broke my heart.
My ex and I were very good friends before we dated. We had great chemistry years before and even though we are no longer together we still have good chemistry. Why ruin a good friendship over yucky feelings?
Dating at 38 is strange. It's so formulated. The questions, the kind of place you meet, the way you say goodbye – forever; it's all out of some dating handbook that thirty and forty-something's get. The Wild West days of dating in our twenties are over and now we must be adults sitting in a cute café asking where each other moved from. Staying up all night making out in a rhododendron bush is over and now we're telling each other where we work, but that we really love to do whatever artistic endeavor we're into.
I guess my real problem with Internet dating is that it isn't organic. It's all forced. I have to force my personality through a profile and then blindly meet someone and try to sound like quite a catch. In an organic meeting it just isn't forced. You see someone that is attractive, you approach and you talk to the person and BAM! you're heart broken a year or so later. Much better than failing on that first date because you can't seem to force your cool personality.
All the relationships I personally been in that have been good have been with someone I already knew. They already knew some of my quirks and defects and I knew theirs. I like already being comfortable with someone that I will be intimate with.
I want a monogamous relationship. I want a partnership with someone. I want to share my day with someone. I want someone to be excited that I exist. I want to be excited that someone exists.
Truth be told, I want to get married. I have said this before, but I want to get married so someone is legally bound to be my best friend. Seriously, I want a best friend – who I have sex with – but mostly share a bed with.
Love is such a finicky thing. First there is the lust factor that causes poor decision-making. Then there are society and culture influences that create a lot of pressure to be a certain kind of man and in a certain kind of relationships, but I do believe in love. I believe in two people helping each other grow, making each other stronger and carrying each other when times are tough.
I don't see meeting this person on an Internet site. Even with the questions and profiles letting us know everything that we could possibly need to know to make an informed decision, I just still don't see that being enough to really meet that person. I know people that are married that met online, but I know that it takes a certain kind of person to make that work.
I don't know. Sometimes I think that I'm destined to be alone. Maybe I have no business getting into relationships. Maybe I should dedicate my life to my craft and\or move to Suriname.
At least I have baseball.