September 21, 2014
introspection, Uncategorized
This is the fourth night I've been in the hospital and I might be here tomorrow night as well. They won't let me out until my white blood cells replenish to a number they think is safe enough, and as of today it was even lower than yesterday. It means that getting sick would really suck right now.
All the doctors I've had have been nice and super professional and have taken their time explaining everything to me and to Sharon who takes notes for her excel spreadsheets. All the nurses have been excellent and have taken such good care of the CNAs and also the other hospital staff has been so good to me. I have been as comfortable as I can be in a hospital.
I don't want to be here anymore. I'm not going to run away, but I am already so tired of being in a hospital getting antibiotics pumped into me, shots that stimulate my bone marrow to produce more white blood cells and getting my temperature, blood pressure and pulse checked every couple of hours. I get another antibiotic treatment at 2am and at 4am I get blood drawn so the doctors come to work and see my test results.
I'm so antsy right now. I stare down from my window and see the intersection of 23rd and Lovejoy. I see all the people walking around. I see the people hanging out in front of Nob Hill Bar drinking beer and smoking cigarettes. I see teenagers hanging out next door at Alloto Gelato on dates. I get put into a trance by the blinking red light at 25th and Lovejoy. I pretend I live in one of the giant houses on top of the hill. I want to be out there. I want to be around people laughing and drinking coffee. I want to be in my own bed next to Sharon. I want her to be hanging out with me without her having to wear a mask.
My body has disappointed me so much these last few weeks. It has held up so well under all the abuse I've given it. Now it fails me and I have to rely on drugs and a special sealed room to keep me safe from infection. My body gets tired easily and I have to lie down a lot. I used to walk all over Portland going from point A to point B and then C, D, E, F and then G and then back to A.
Now I'm in my head, but my head is foggy. I can't concentrate or focus on any one thing for a long period of time. I watched the Duck game last night, but I missed whole plays and scores, but I watched the entire game. I couldn't tell you today one highlight from that game, and I watched the entire game.
I get no escapes. All my escapes fail me now. I can't read for very long and when I do I read the same line over and over again. Twitter now makes more sense than it did before – ADD reading. Music has been hard to enjoy because some of the sounds have started grating on my nerves that didn't grate on me before. Anything in the mids and highs get uncomfortable for my ears. I have a really hard time writing or drawing. It takes a lot of energy to watch a TV show or movie and usually I'll get lost in the middle of the show or movie and be totally lost. I don't smoke anymore, so a tried and true escape pod is no longer an option for me. I don't drink or do drugs – I haven't been on pain meds. There is nothing that takes me out of me.
Even my space outs aren't escapes. I'm just in my reality, but not paying attention to the world around me. I'm just in my confused and fragmented brain wondering if I'm going to be able to do this.
Hundreds of people are reaching out to me, but I feel so alone. Even when people stop by I feel alone. I feel a little better, but sometimes I don't know if I'm going to be able to get out of my head and converse. I don't think no one else has ever been through a similar situation than me, but I'm in a hospital room isolated from the outside world and there is nothing else going on in my life but getting through cancer treatment and hope that my body can start fighting infection again so I don't have to live in a hospital like it's a motel. I've never felt more alone than I do now.
In fact, I'm just mad at this whole situation. I'm pissed. I hate that I have to go through this. I'm not saying I don't deserve worst, but I can't help just being fucking angry at the fact that I'm stuck in a goddamn hospital bed with nothing but a floating brain.
I'm only a 1/3rd of the way through my treatment. When I first heard that I thought that I was already through a third of my treatment, but now it's just a third and this little bout with infection and a low white blood cell count might have postponed my next chemo cycle by a week or so. If I'm lucky, which lately I'm sure my luck has run out, I'll be getting out tomorrow or Tuesday and starting my second cycle of chemo on Thursday, but if I have to stay till Wednesday or longer, I won't start chemo till later, which means I'm doing chemo longer.
Fuck.
My nieces want to visit me, but kids can't visit me here and kids are little germ sponges. My nieces want to kill me!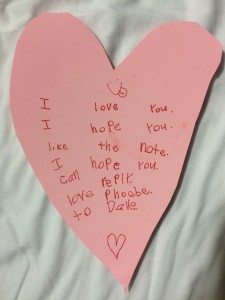 I made my niece a comic to explain what is going on.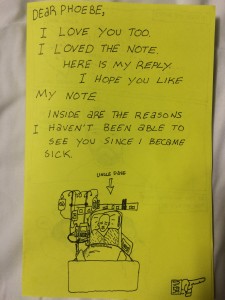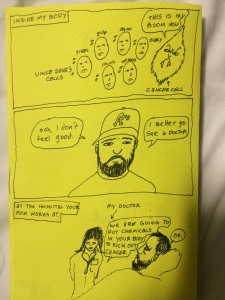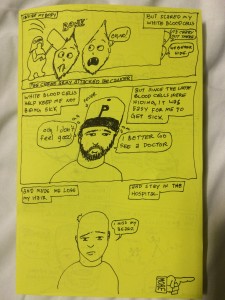 My sister in law's godfather gave her dirt to give me. It's holy dirt from Santuario de Chimayo, New Mexico. I'm supposed to rub it on me. I might ask the nurse to put it into my PICC line.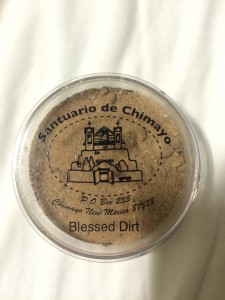 When Sharon was leaving to go home last night we hugged. I melted into her and realized that because of my body we haven't been very physically affectionate in a while. Her hug felt so good. It always has felt good.
I know that this little blog was a little more depressed sounding, but I think I just needed to bitch. I am being the best little patient I can be, but sometimes I just want to scream and throw shit at the wall and yell for Dilaudid. Dilaudid would fix everything, right?
I know that I should be grateful. I see all the fucking lists on Facebook. The gratitude challenges. More like the smugness challenge. I am grateful for health care, both the health profession and the insurance. I am grateful for all the people that have reached out and tried to soothe my soul – and some of you have. I am grateful for the love and the organizational skills both in spreadsheets, lists and medical explanations of my girlfriend Sharon who has been my rock through all of this. I would not be getting through this without my entire family who are bending backwards to help me get through this. I'm grateful to all the people that contributed to the go fund me. I'm grateful that I'm going to get through this.
When I do look at the things I'm grateful for I remember that no matter what everything is going to be all right. Some day I won't have cancer and I'll be healthy. It sucks today, but I have people who love me, and professionals that are good at what they do treating me, so I'll get through this.
Thanks for listening, I feel better.